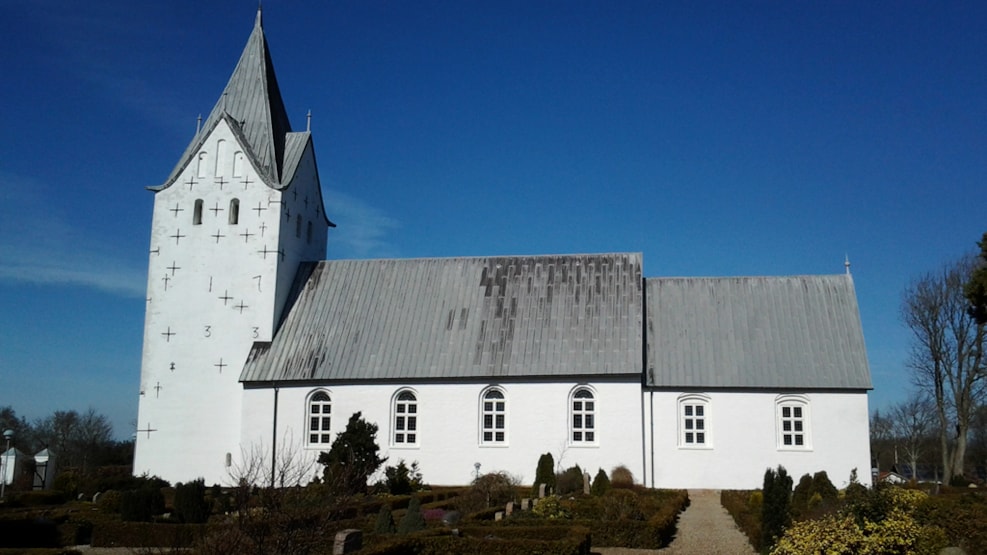 Vester Vedsted Church
Vester Vedsted Church can be traced back to approx. 1175, where it was founded on the dune in Vester Vedsted, originally it is a tuff stone church.
On the north side of the church, the tuff stone wall is preserved from the plinth to the windows. The church was without a tower until the 15th century. After a lightning strike in 1845, the tower burned down. But the church was ridden because of the resourceful efforts of the people, which consisted of filling the doorway to the church room with turf.
Originally, the church was dedicated to the Catholic maritime saint, St. Andreas. The church has no original frescoes. The current decoration of frescoes in the choir is from 1916.
The altarpiece and the image of the Last Supper are from the beginning of the 18th century. At the top, the painting is adorned with two Renaissance figures of resp. Peter and Paul. The figures in the niches on each side of the altarpiece depict the Father with the globe in his hand and Christ as the good shepherd. The bottom of the tablet is adorned with seven small relief images of Old Testament prophets and kings. This part probably comes from an older altarpiece.
The pulpit dates from 1625 and has four reliefs: the Annunciation, the shepherds' worship of the Child Jesus, the circumcision of Jesus and his baptism in the Jordan River.