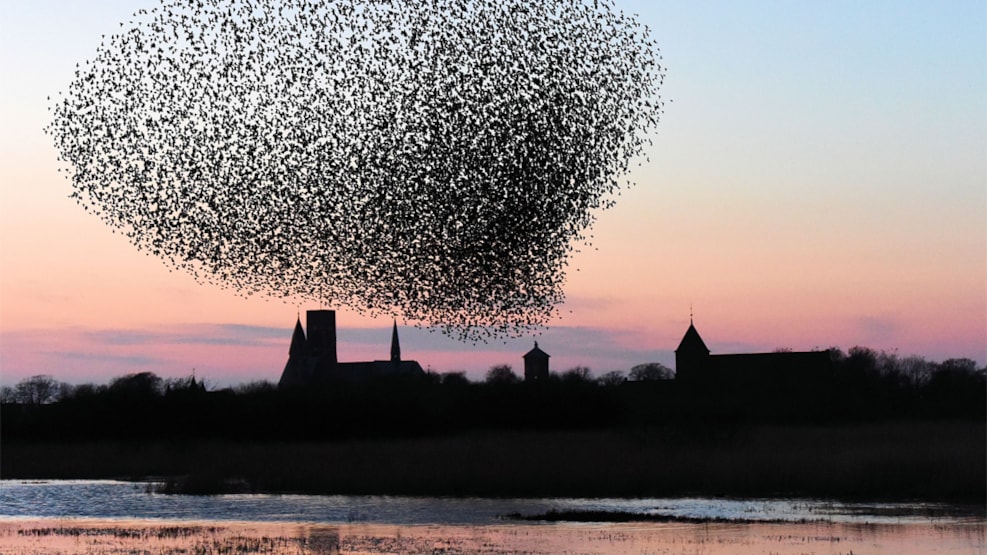 Starling Magic - a natural phenomenon where starlings dance in the evening sky.
The Phenomenon Starling Magic is a fantastic experience when 100.000 and, yes, even 400.000 starlings dance ballet in the sky over the Ribe Marsh.
Season March/April and September/October.
The dance of the starlings is dependent on the number of birds of prey and the weather. The optimal conditions would be a relatively quiet and dry evening as well as the right number of birds of prey who are contributing to the creation of the beautiful formations in the sky. On a stormy and rainy evening without birds of prey the starlings dip down to roost in the reeds for the night quite quickly.
In spring and autumn many flocks of starlings are seen to roost in the reeds in the area around Ribe Vesterå. They can also be seen from the bird tower at Ribe Østerå. At Ribe Østerå  you can see a rich bird life all year round. Just 10 min. walk from the train station is a disabled friendly bird tower with a fantastic view across the wetland.
The Wadden Sea Centre arrange Starling Magic tours
Buy your ticket here +45 75 44 61 61 or online booking
When on a Starling Magic tour remember to bring - warm clothes, a hot drink, perhaps binoculars and patience.
On your own
It is hard to say where the starlings decide to stay for the night. But on this map you can see the most popular places: Lindet State Forest District.
Possible spots near Ribe
Ribe Østerå - birdtower. Park at the end of Bøge Allé.
Ribe Østerå - Damhus. At the main road no. 24 in direction of Haderslev right at the railway tracks.
Ribe Vesterå - Bjerrumvej.
Vilslev Enge