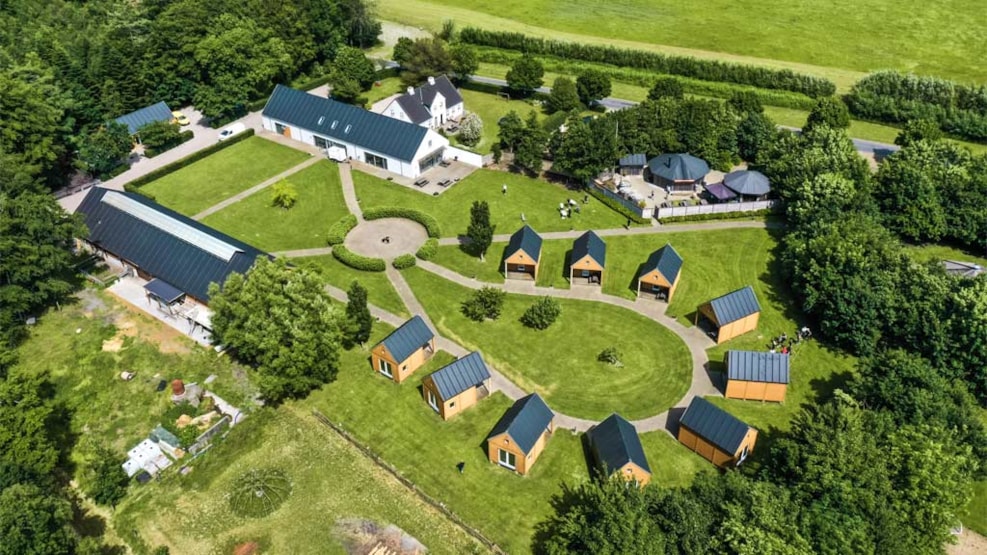 Skovly Ribe - our activities
Is it time for a break from the office environment, do you want to get to know your colleagues better, relax and have fun at the same time? Then book your next incentive business trip at Skovly by Ribe.
Skovly offers the unique possibility to combine meetings with experiences, where wellness, togetherness and nature are in focus. Start your day with a relaxing yoga class before getting busy with your meeting. We also offer fun team building activities like archery, ax throwing, climbing or cooking workshops in our custom-built fire dome. End your day in our wellness area, fully equipped with our wood fired hot tubs, cold tubs and Russian sauna.
We are completely grounded, which is something we aim for you to be as well. Our main purpose is for you to experience being in contact with yourself, each other and the surroundings, which is why all of our activities are built around social aspects. Last but not least, we want you to have fun.
We can accommodate different kind of groups and strive to make each experience unique depending on your needs and wishes.
Russian Sauna wellness with woodfired hot- and cold-water tubs
Our Russian Sauna, also called Banya, is the highlight of our wellness area. The Banya is a more than thousand-year-old tradition, which - aside from health and relaxation - also has a social function. The social aspect is very important to us, which is why our Banya is a great activity for teambuilding. The Banya is typically combined with our cold-water tub and our wooden fired hot tubs, that can be used in all kinds of weather.
Fire Dome activities
Our custom-built Fire Dome can facilitate many different kinds of activities. The Dome offers great acoustics, which makes it well-suited for lectures, music and sound in general. The Fire Dome is often used for food workshops, where both preparation and cooking are a big part of the experience.
Yoga and sound therapy
Yoga and sound therapy are great for peace and contemplation. At Skovly we offer many different kinds of yoga, whether you prefer the quiet meditational types like Yin Yoga, or the more active kinds, like Hatha or Ashtanga. As a new feature, we now offer sound therapy – an excellent form of meditation to calm body and mind.