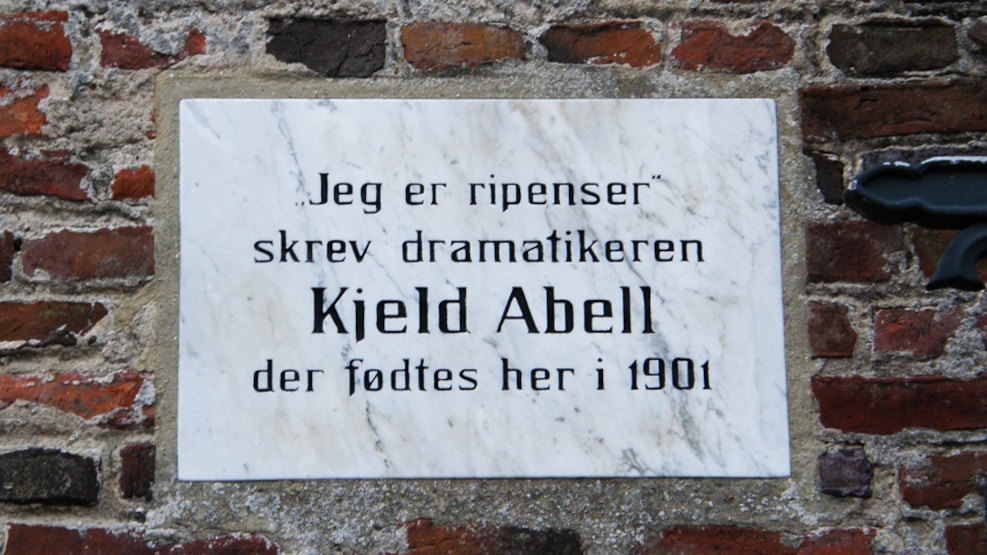 Memorial to dramatist and author Kjeld Abell in Ribe
Kjeld Abell was a known dramatist and writer. He was born in Ribe the 25th of August 1901.
He drew and painted at The Art Academy 1919-20 and 1921-22 and after that he studied Political Science, while he lived by working in the remote identification bureau 1920-26 and in 1927 he went to Paris to live out his dream of becoming a scene painter. He worked as a scene painter at theaters in both Paris and London. He moved back to Denmark in 1932, where he worked as an advertising designer at Bengenholz advertising agency until 1934. His breakthrough as dramatist came with the comedy "Melodien der blev væk", preformed in "Riddersalen" in 1935. The comedy became his biggest audience success. In addition to writing the comedy, Abell also designed the costumes and decorations. Besides "Melodien der blev væk" Kjeld Abell has also written several other plays and some movie scripts.
Kjeld Abell died in Copenhagen on March 5th 1961.