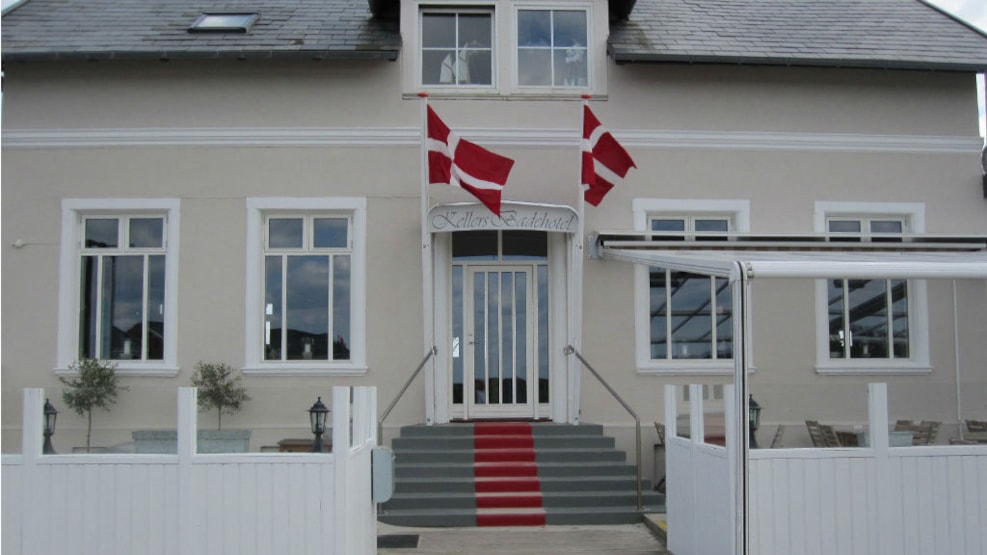 Kellers Seaside Hotel and Dining House - Fanø
Check in at the cozy, historic Kellers Seaside Hotel and Dining House just a few hundred meters from the North Sea and Fanø's wide beaches. The house is furnished with 9 bright rooms, cozy living rooms and a restaurant where food is prepared inspired by the Wadden Sea.
Kellers is a charming and comfortable hotel, lovingly kept in the traditional style of Danish seaside hotels.
It's situated on the west coast of Denmark, on the wild and unspoiled island of Fanø, which is in the middle of the Wadden Sea National Park,  recently adapted by UNESCO.  Kellers is within a short walking distance, from the endless sandy beach, for which Fanø is so well known and loved.
In the garden annex, we have 6 en-suit double bedrooms. The interior decor, is kept in a comfortable and simple Nordic style. The rooms all have  south facing patios, with views towards the surrounding landscape of sand dunes and a scattering of quaint thatched holiday cottages.
Keller's 1st floor has recently been extensively renovated and converted now consisting of  a bridal suit, and a double and a  single bedroom, all en-suit.  Also a light and comfortable sitting room, with far reaching views over the surrounding sea side landscape and Fanøs famous link golf course.   
Our cosy restaurant serves a delicious breakfast, lunch and evening meal.  Hot and cold drinks can be enjoyed throughout the day - weather permitting on our 'hyggelige' covered terrace or indoors in front of the warming fireplace.
In our kitcten the priority, is to use raw ingredients, local, seasonal and naturally of a high quality,  prepared with  respect for the final product, that in our restaurant will  give our guests a memorable culinary experience, at a reasonable cost.  
Our  function room 'Cuba', has seating for up till 30 guests. It's light, airy and tasteful decorated.  The walls here and throughout Kellers are hung with exceptional fine and original paintings, by well known artists Exner, Johan Rhode, Elas Nøbbe and others many of whom are members of the famous Skagen Painters.                     
'Cuba' is ideal for private functions . We are very much aware, that no two  occasions or celebrations are alike, so we will be delighted to use our experience to help you plan, for you needs.       
 We also have AV equipment, which makes our function room an ideal  venue for conferences og meetings. Please contact us for further details and offers.