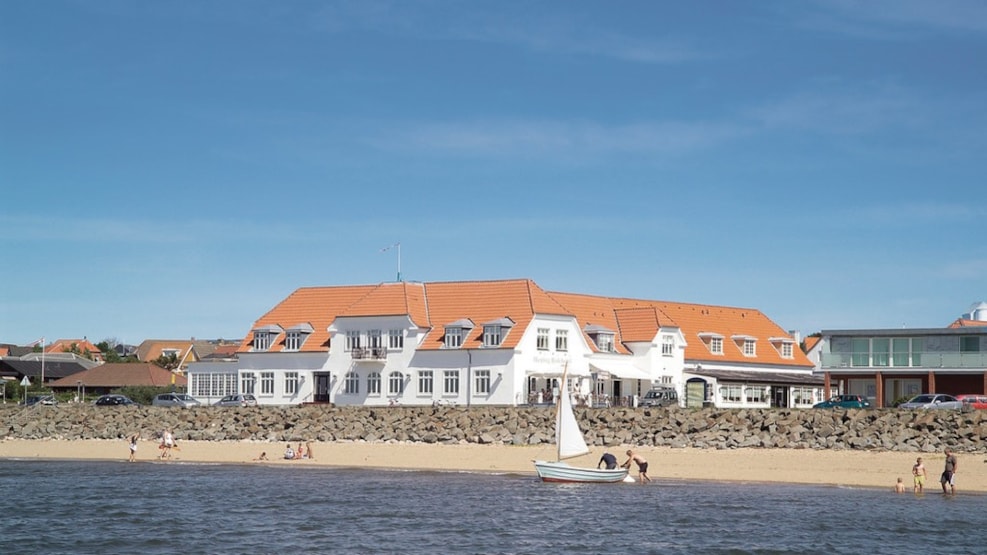 Hjerting Badehotel near Esbjerg
Hjerting Badehotel is a first class hotel - only 9 km from the centre of Esbjerg - situated right down to the Wadden Sea and a child friendly beach.
Badehotellet's facade is just a few steps away from the shoreline of Hjerting Strand with a fantastic view of Skallingen and the uninhabited island, Langli, which is a popular breeding ground for birds.
The magnificent location at Hjerting Beach makes Badehotellet fuse with its surroundings. The majority of our rooms have a fantastic view of the Wadden sea. No matter if you stay at a standard room, a beach room, a suite or one of our houses, you get a sense of Badehotellet's close environment of beach, forest and sea; the decoration is light and warm with natural materials and maritime finesse.  
Badehotellet has two eateries: Strandpavillonen, which is our gourmet restaurant, where our overnight guests also enjoy their breakfast, and Ship Inn which is our combined bar, brasserie and gallery. The eateries are different in form of concept, decoration and atmosphere, but their common characteristics are organics, local ingrediens and fine quality. 
You can book your next night at Hjerting Badehotel directly on our website: