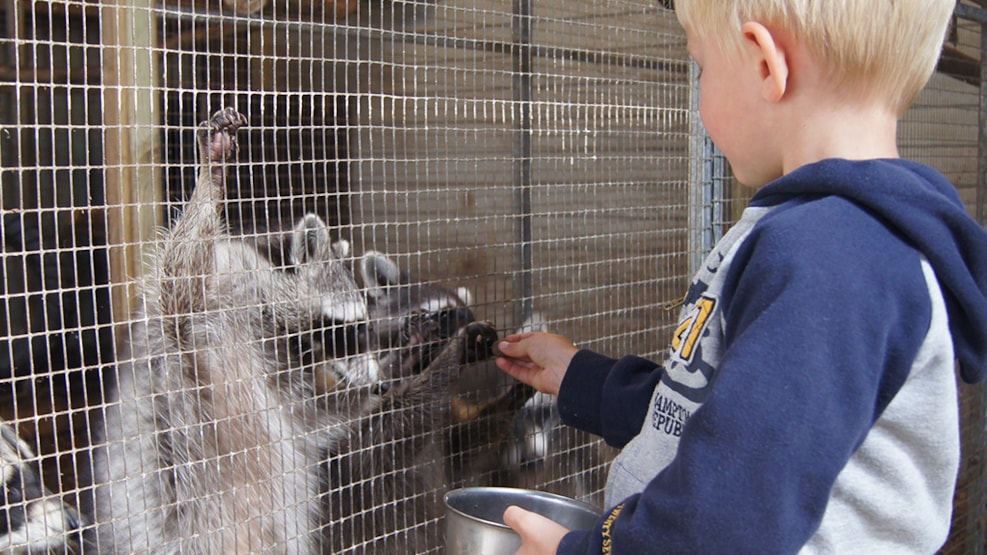 Enghave Animal- and Nature Park, Brørup
Come and take part in the feeding of the animals, say "Hello" to the parrot or watch the park from a horseback where you and the pony are followed by a grown-up. You just have to hold on to the mane.
Enghave Dyre- og Naturpark gives an exciting experience with the animals at close range and all senses are stimulated. Peace and intimacy are often the key to a good contact with the animals. The size of the park and the range of animals are easy to survey for most children, so that children from the age of 1 year will benefit from visiting the park.
Other experiences in the park
The rabbits want to be patted, their fur is very soft. And when you visit the sheep and goats who also like to chat, you feel a totally different fur. Afterwards, go and look into the eyes of the llama. You can try out fishing in the 2 fishing lakes or play a round of footgolf. Or go inside and get a face painting. In the park you find a lot of places where you can sit down and enjoy your lunch basket and the take away Søstjernen also offers food. In 2015 we increased our herd by old breeds of Danish domestic animals, i.a. "Ertebølle" sheep, originating from the Ertebølle-civilization, and "Sortbroget dansk landracegris", i.e. black-and-white pigs, with light skin and black spots. We look forward to a lot of cute baby pigs.
"Livslyst"
Enghave Dyre- og Naturpark also includes the social enterprise "Livslyst". Some of the members of the staff of the park are mentally challenged. During various work placements, they take part in the daily doings in the park. I has turned out that they profit from the contact with the animals and the work in the park gives them a positive experience in connection with having a job.
Useful information
At the entrance to Enghave Dyre- og Naturpark ticket coupons are sold to be used at all activities. We also sell season tickets – the prices appear from our homepage. We accept Swipp and Mobilepay. A grill is lent free of charge. At the entrance, you find a café area.
Special events
Events are arranged throughout the summer – please find further information on our homepage.
Distance
Brørup: 3 km
Billund: 33 km
Vejen: 11 km
Hovborg: 13 km
Holsted: 8 km
Kolding: 32 km